Head Teacher for English school at Shinjuku, Tokyo
Recruiting a head teacher for the purposes of improving currented developing new curriculum as well as assisting in training of current and future native English language teachers.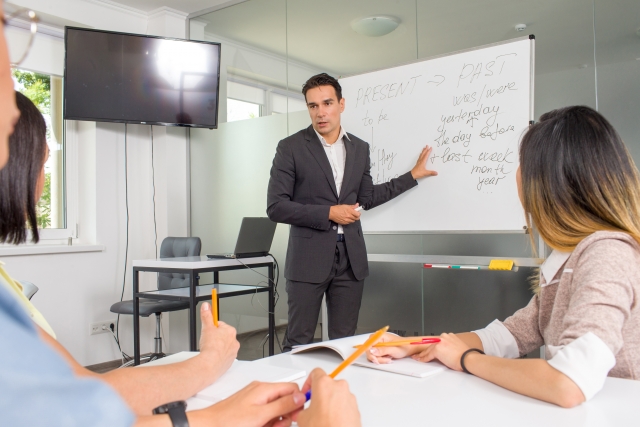 基本情報
仕事で必要な言語

英語

English: Native
Japanese: Not Required (Appreciated But Not Required)

必要な日本語レベル
日本語が出来ない


Business level Japanese language ability of better (JLPT N2 equivalent or above)

雇用形態

正社員

職種
教育
給与

Transportation fee allowance

仕事内容

Candidates will be responsible for the development of English language curriculum for kindergarten and primary school children as well as providing teacher training for teachers and staff.

Candidates will also be expected to visit schools within Tokyo's 23 wards and the surrounding area to perform observations, teacher training, and substitute teach (when necessary).

・Plan and prepare 40-minute lessons for pre-school (ages 3-5) and elementary school (ages 6-12) children
・Work with school staff to provide a safe, fun, and immersive environment for the children
・Communicate with school management as well as with parents/guardians regarding child progress
・Plan and lead special activities and events
・All necessary materials will be provided by the school

勤務地
東京都Shinjyuku
アクセス

Work in the twenty three wards in central Tokyo, Japan.

勤務時間

1 Hour Break

休日・休暇
※1 Working hours and days may vary depending on location, season, and special events

Saturday, Sundays, Public Holidays
Summer Holidays, End-of-Year Holidays, Congratulatory/Condolence Leave, Paid Leave
応募資格
'- Must enjoy being around and working with children and have a good attitude when working with staff, children, and parents/guardians. 
- Must have experience in a similar field (childcare, teaching English both online and in person, etc.)
- Must have experience with curriculum development
- Must have experience training English language teachers (native and non-natives)

Appreciated But Not Required
- Translating/Interpreting Experience
- Certificates or degrees related to Englisn language education (including but not limited to TESOL/TEFL, etc.)
求める人材

People who love working with kids
have experience are especially welcome!
待遇・福利厚生
Visa sponsorship: Yes
(Bachelor's degree or above required appropriate Visa & work permit preferable)
Benefits: Transportation allowance, social insurance costs (health & employment insurance,pension),
uniform partially provided,
comprehensive training, career opportunities.